Reflection on Confronting the Challenges of Participatory Culture
            Reading Confronting the Challenges of Participatory Culture by Henry Jenkins revealed how teachers and educators have to adapt and confront the continuously changing scenery of the internet and technology.  Jenkins explains that because of this changing landscape of the internet, participatory culture and how we perceive literacy in society is adapting and changing.  He also tells of how we can also limit our use of technology if we don't understand our own culture and how to use technology to further enhance it.
(Our forever changing tech world)
            One adaptation of literacy, Jenkins explains, is how learning through the internet and technology is informal.  We have always, in a sense, learned formally through institutions that are boring, bureaucratic and rigid.  This new way of informal learning allows for more 'movement', easy access and easy to change for the better of the community.  Our formal ways of the past have always been slow to adaptation and participation was almost always exclusive.  We need to let youths know that they are free to participate and not only are they free to do so, but that their participation would be appropriately valued. 


Hypothes.is link to passage explaining formal and informal and my own interpretation...
Robin DeRosa's (author of Working in/at Public) response to my hypothes.is annotation...

Jenkins writes about David Buckingham and how Buckingham argues that young people's lack of interest in news and politics reflects their perception of disempowerment.  Jenkins also mentions a lot in his writing about gaming 'politics'.  He uses the examples of games like The Sims and others as how youths have garnered some sort of political education through gaming.  Through gaming and creating their own governments and simulated lives, youths have gained a grasp on politics and how they work.  Yet, their lack of interest in 'real' politics has left them feeling disempowered and disconnected.  I have to say that this is partly our own fault.  We can't blame society for our lackluster interest in 'real' politics if we don't take the time to become somewhat literate and verse in the subject.  "An illiterate country/people/society is easy to deceive…"


            Although youths might feel disempowered, in one passage Jenkins explains that participatory culture offers many opportunities for youths to engage in civic debates, participate in community life and even become political leaders.  With technology and the internet, we are seeing more youths becoming more involved in politics and activism.  Hashtags allow for easy access and easy flow of real-time information that we, society, can chose to follow or dismiss.  A grasp of our culture allows for a better deployment of the tools needed to accomplish our goals.
Hypothes.is annotation with an example of how this has been utilized in modern culture...
            In a nutshell, Jenkins outlines three major concerns in his assertion that Participatory Culture should be nourished in schools:
The Participation Gap: the unequal access to the opportunities, experiences, skills, and knowledge that will prepare youth for full participation in the world of tomorrow and the world of today.  Allowing for access to all and any.
The Transparency Problem:  The challenges young people face in learning to see clearly the ways that media shape perceptions of the world and how media can shape their own view on society.  Teaching youths to look at society from their own perspectives and not from what is pushed on them.
The Ethics Challenge: The breakdown of formal professional training and socialization that prepare young people for their increasingly public roles as media makers and community participants which are better comprehended in an informal setting.  Adapting to how we teach ethics in conjuction with the amount of info accessible to youth on the web.  Because the web can be a sickening and scary place...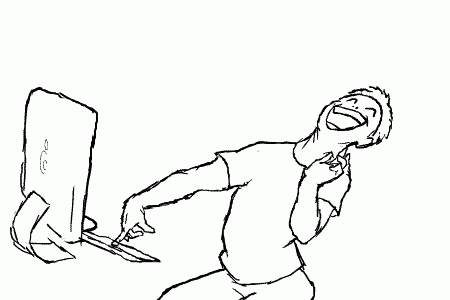 Youths are adapting to technological advancements and the changing atmosphere of participatory culture.  It is our job as educators to change the formal way we educate youths on participation and adapt to the new way information is coming at them and their screens at a rapid rate.  We must teach them to utilize technology and the internet to step outside their boxed world and into the realm of the global community!